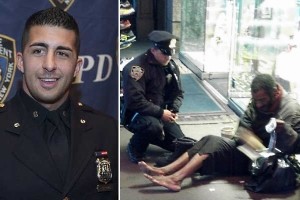 NYPD officer Lawrence "Larry" DePrimo is just one example of an amazing police officer.
He was walking the beat in West Village on a cold November night when he noticed some people making fun of a homeless man. The man was sitting on the sidewalk wearing no shoes, so DePrimo asked him "Where are your shoes?" The man responded by saying he's never owned a pair of shoes, so the officer decided to buy him some at a nearby store.
When DePrimo returned and helped the man put the shoes on, a woman snapped a picture of the act that went viral on Facebook. Thanks to the publicity and his years of service, DePrimo was soon promoted to Detective.
Click here to read about more police officers who have done great things!